About Us
The Little Church of the West, Las Vegas Wedding Chapel was conceived by William J. Moore Jr. in 1941 as part of his plans for a resort hotel, a relatively new venture in Las Vegas.  Mr Moore was an architect and builder for his uncle R.E Griffith of California.  Moore described his reason for inclusion of a wedding chapel as an attempt to garner a share of the lucrative and expanding wedding chapel market in the area.
The original freestanding wedding chapel in Las Vegas
While the Little Church of the West was built to attract business to the Last Frontier, it was also the first such facility designed specifically as a wedding chapel.  Others already in operation were converted from buildings which had a prior use.
Old Vegas Charm for the modern wedding couple
Originally built as part of the Last Frontier Hotel located on an isolated stretch of highway that would one day become the famous Las Vegas "Strip", the Little Church of the West upholds the heritage of Las Vegas with its unique architecture. It's a freestanding replica of an old west mining town church. With an exterior of cedar and an interior of California redwood, the chapel looks much the same today as when it was first built. It speaks of the early days of Las Vegas when its business district consisted of only the first three blocks of Fremont Street.
Las Vegas Weddings
As the town grew with the population boom caused by the construction of near by Hoover Dam, Fremont Street began to pulsate with wall-to-wall casinos. As first class resorts began to dot the desert skyline and big name entertainment lit up the beckoning marquis, the stage was set for the Little Church of the West to take its place in the annals of Las Vegas history.
Part of Las Vegas History
Attesting to its historical significance, the Little Church is listed on the National Registry of Historical Places, the only such place on the "Strip" with this honor.  One of the requirements for inclusion is that the structure retains its original integrity. "It hasn't changed," says current owner. "I mean, there's been some painting and re-carpeting but the pews in there are believed to be the ones built with the chapel in 1942." The four Victorian lamps that light the chapel are believed to be from 19th-century railroad cars but have since been converted from gas to electric. In 2017, the Little Church of the West will be celebrating its 75th anniversary and remains the oldest existing structure on the Las Vegas "Strip".
Historic Wedding Chapel in Vegas
How did this quaint little wedding chapel stand the test of time and all the facelifts of the Las Vegas Strip? Simply put, it moved — 3 times to be exact. The chapel first moved from its original location on the north side of the Last Frontier Hotel to the south side in 1954. In 1978, it was moved onto the grounds of the Hacienda Hotel to accommodate the building of the Fashion Show Mall and in 1996, the chapel was moved to its current location on the corner of Russell Road and Las Vegas Blvd to accommodate the building of the Mandalay Bay Hotel & Casino. Smith says the chapel has been popular because of its historical significance and its unique appearance. "There's a lot of mystique about the chapel".
The marriage capital of the world
The wedding venue business flourished because of easy marriage laws. Unlike other places, Nevada did not require a waiting period and there were no requirements for blood tests. Today, those particular reasons for traveling to Nevada to get married have become less significant as laws in other states have changed, but these reasons remain significant for people from such countries as Germany which has strict laws governing marriage, adding that last year people from 22 countries were married here. For Americans, however, getting married in Las Vegas remains hassle-free, inexpensive, and something to remember. Visitors can visit the Little Church of the West for a self guided Chapel Tour.  Visitor may need to wait for a wedding ceremony to finish.  Please visit the chapel office before entering the chapel area.  Visit the Little Church of the West blog or our Wedding FAQ page to learn more.
Ready to reserve your date? View our Las Vegas wedding packages
Celebrity Weddings at the Little Church of the West
Betty Grableand Harry James (1943)
Andy Russell and Della Norell (1945)
Deanna Durbin and Felix Jackson (1945)
Zsa Zsa Gabor and George Sanders (1949)
Fernando Lamas and Arlene Dahl (1954)
Dinah Washington and Dick Lane (1963)
Judy Garland and Mark Herron (1965)
David Cassidy and Kay Lenz (1977)
Bob Geldof and Paula Yates (1986)
Dudley Moore and Brogan Lane (1988)
Redd Foxx and Ka Ha Cho (1991)
Richard Gere and Cindy Crawford (1991)
Noel Gallagher and Meg Matthews (1997)
Billy Bob Thornton and Angelina Jolie (2000)
Billie Piper and Chris Evans (2001)
Jodie Sweetin and Cody Herpin (2007)
Mickey Rooney
Robert Goulet
Buck Owens
David Sanborn
Telly Savalas
Heather Thomas
Mel Tormé
Margaret Whiting
Lars Ulrich
Ian Astbury
Max Blumenthal and Anya Parampil
Meet the team at the Little Church of the West. Where exceptional service is always in style.
Tracy
Chapel Manager
With over 21+ years of exceptional customer service Tracy excels in all areas here at the Chapel. As a Professional Photographer over 16+ years, Tracy graduated with her Bachelor's in Science in Photography from AIP.  Her passion, knowledge, and strength are what makes her the professional she is today. Tracy enjoys meeting new couples from all over the world and giving them a memorable and unique experience. Tracy is from Pittsburgh, Pennsylvania, and in her spare time she loves to travel and experience new things with her Husband and Daughter!
Nicole
Las Vegas Wedding Planner
A born and raised Las Vegas native, Nicole has an extensive background in hospitality and the concierge industry, where she has a decade of experience helping people create the best memories of their lives. Considering she's a true romantic at heart as well as her dedication to detail and perfection, becoming a wedding consultant was a dream come true and an amazing fit; not only for herself but also for the couples she meets every day. Nicole is a truly gifted customer service professional who will make your wedding day dreams come true and an event to always be remembered. When not planning weddings, her passions include: her daughter, fashion, zumba, traveling, and cooking for friends and family.
Emily
Las Vegas Wedding Planner
Emily is originally from California but grew up in the city of Las Vegas! While growing up in Las Vegas she has grown a passion for the tourism and hospitality industry! She loves working at Little Church of The West because she meets couples from all around the world and helps them plan their special day! When she's not planning weddings or studying, Emily enjoys traveling, weight training, cooking and attending music festivals/concerts. She loves spontaneity and is always planning her next adventure!
Yvette
Las Vegas Wedding Planner
Born and raised in the city of Las Vegas, Yvette truly is a rarity! Yvette has 10+ years in the wedding industry. She thrives in this career due to her love for people! She loves coming to work, and being around all the couples. Making dreams come true makes her world go round! When she is not planning weddings and making couples happy, she likes to spend her time with her daughter, son, and family. Yvette enjoys hanging out in Downtown Las Vegas, going to live shows, and travelling!
Bunny
Florist
Originally from the east coast, Bunny moved to Las Vegas in 2001 to further her floral career. Landing a job at the iconic Little Church of the West was the beginning of her floral dream's come true. As lead designer she has been given complete creative control over the floral department. Bunny's floral designs have been featured in print as well as on TV, including: Forbes Magazine, Royal Pains, and Piers Morgan On… Las Vegas (where he "married" Paris Hilton at The Little Church of the West). Bunny has made countless creations for all kinds of events, and is truly passionate about making your wedding flowers exactly as you envisioned.
Jennifer
Photo Department & Social Media Manager
Jennifer has been immersed in the photography realm since she was a young teenager. With over 15 years of lifestyle and journalistic-style shooting, Jennifer loves to capture the "heart of the moment"; when couples are most intimate and vulnerable. Her ability to help the couples relax and be themselves is key to her wedding photography. If there is one thing she wants to happen flawlessly during your wedding day, it would be your photoshoot. Photographs capture the essence of a single moment, and she wants to ensure you receive all those beautiful moments on your wedding day.
James
Lead Photographer
James has loved cameras and taking photos as long as he can remember. When he was 4 year old, James found his dad's camera and took a blurry pic of half his chubby face, he has continued taking photos every chance he could get. James has held several other careers, but through it all has never lost the passion for cameras and photography. It's always been the one thing in his life that hasn't ever felt like "work". No matter how long the photo shoot, or how heavy the camera, James still takes all his photos with a smile on his face because he cannot believe he is getting paid to do something that he loves so much!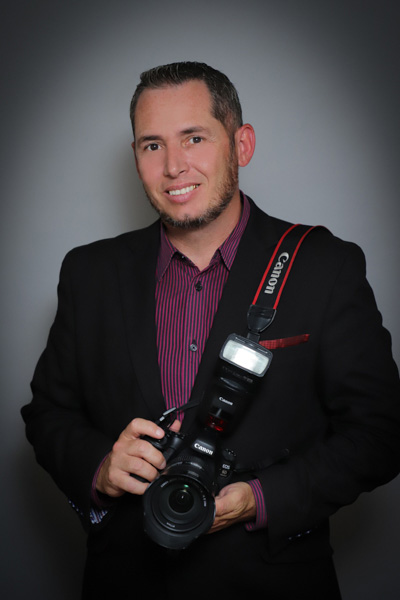 Boris
Photographer
Boris Rivero was born in Havana, Cuba. He graduated in 2013 as a Computer Science Engineer from Computers Sciences University, but he has always been passionate about capturing colors, special moments and feelings with photography. For that reason, in 2010 he decided to start studying Photography in the Cuban Photography School (Fototeca de Cuba). Later he created his own photographic studio. In his spare time he likes to travel with the company of his production team (his daughters, his dog and his wife) and he always carries his camera with him.
Brian
Minister
Brian Mills has loved performing weddings since he officiated his first ceremony in 2001. Brian draws from his extensive experience and training as an entertainer, having spent many years on stage, most notably as Danny Zuko in the European Tour of Grease and the Host and Lead Singer of the world famous Les Folies Bergere Show at the Tropicana Hotel.  As an ordained Minister with the Universal Life Church, having performed over 8000 ceremonies to date, Brian has also recently been chosen as one of the Top 100 Men of Las Vegas by MyVegas Magazine. He truly loves his job and can't wait to perform his next wedding, whether it's an elegant traditional ceremony or a fun Elvis Renewal of Vows.
Judith
Minister
After spending 20 In the Hospitality Industry; Judith made the decision to expand her professional career into the Wedding Industry mainly based on the fact that she loves people and what better way to interact with people then being an integral part of the happiness that comes from a couple committing their love for each other when being married.
Judith takes great joy in performing weddings and is fully committed to insure that the experience is memorable to the couple being joined together in marriage. She feels this should be the happiest day of their lives.
When not performing wedding ceremonies, Judith loves spending her time with family and friends, more importantly devoting quality time with her grandson Luca, who absolutely steals her heart.
Traveling has always been a passion.
Judith truly feels blessed in her life and being part of something so special as performing  weddings is certainly a blessing in itself.
Chapel Tour 360 tour
Chapel Tour 360 tour – Our quaint, romantic, historical Las Vegas wedding chapel will make the most important day of your lives a stylish and memorable event. Click on the images below to get the 360 degree Las Vegas Weddings experience.  You can roam our beautiful grounds and virtually stroll in the historic Las Vegas Wedding Venue.  Real wedding ceremonies can also be viewed on our Las Vegas Weddings Live Cam.  Photos and Video of real weddings can also be found on our Las Vegas Wedding Gallery page.
---
Las Vegas Weddings began with the Little Church of the West Voted Las Vegas' Best Wedding Chapel.
Chapel Tour 360 tour