Las Vegas Outdoor Weddings
The Garden at the Little Church of the West
With seating up to 85 and ample standing room our garden venue is perfect for couples with a large number of guests or just want to enjoy the fresh air. A mister system keeps the garden cool in the summer months and the tall pine trees wrapped in fairy lights make it an intimate area for an evening wedding.
The perfect outdoor setting for your Las Vegas wedding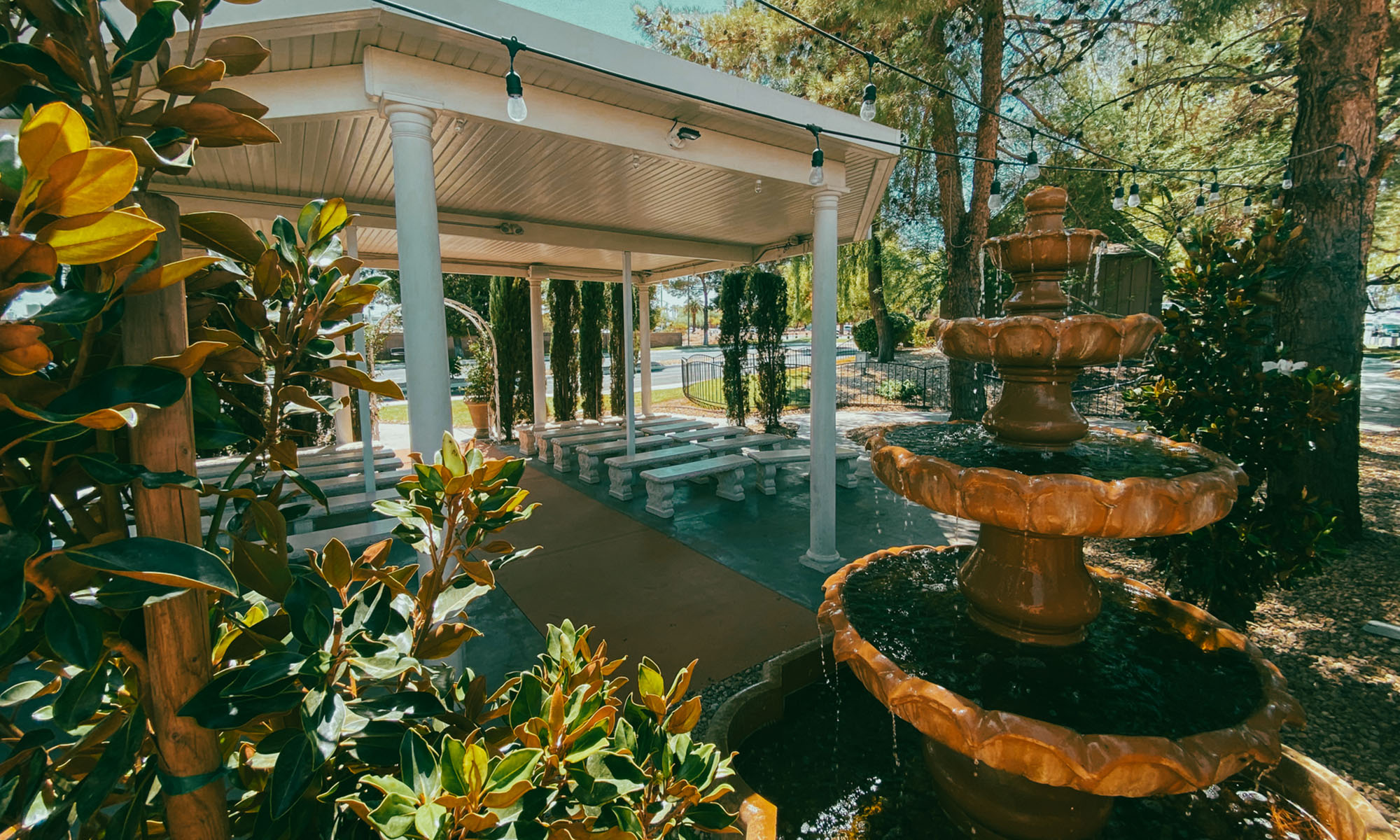 The Garden
at the Little Church of the West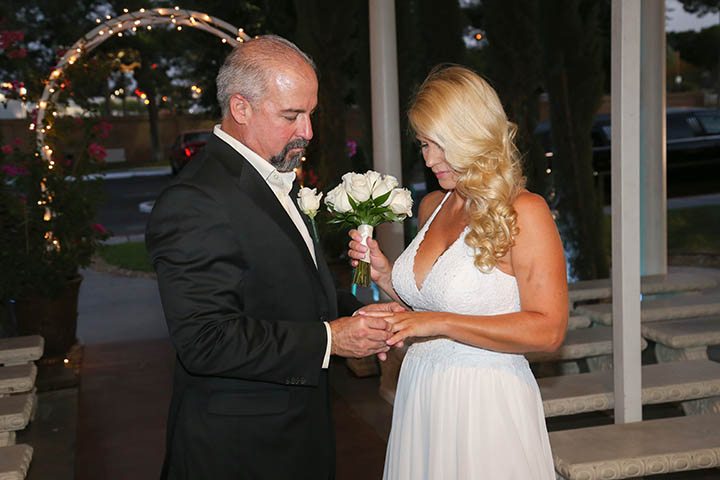 How to Plan the Perfect Outdoor Wedding in Las Vegas
Wedding bells are blaring in Sin City. Between January and July of 2021, more than 44,000 marriages were filed with the Clark County government.
Las Vegas attracts weddings like no other place in the world. One reason why is the versatility of Las Vegas. You can schedule an indoor wedding, but an outdoor wedding in Las Vegas can create lifelong memories.
But how can you decide where to get married in Las Vegas? How should you prepare for the weather? What themes and services can you get for your wedding?
Answer these questions and you can have the Las Vegas wedding of your dreams. Here is your quick guide.
Find the Perfect Outdoor Setting
You can find wedding venues all throughout Las Vegas. Don't pick the first one you see. Go to a few different venues and find one that speaks to you and your partner.
You should keep wedding transportation in mind. If your guests are staying at a hotel or going to a reception hall, your venue should be close by. You can also get married at a venue that has its own reception or dining hall.
Your venue should be large enough to accommodate all of your guests and wedding staffers. There should be adequate sunlight and protection from the elements. Try to avoid getting married in a dirt area, as the wind can whip the dirt into your eyes.
A gazebo is a good option for all couples. Your entire party can sit underneath the gazebo, avoiding rain while still receiving sunlight. You can hang flowers and lights from the gazebo for added decorative touches.
Pick the Right Date
As you might imagine, Valentine's Day and Christmas are extremely popular, and you should avoid these holidays. But it's usually a good idea to avoid all major holidays, including Halloween and July 4th, because venues get booked early. You can schedule your wedding for the week before a holiday and then have a theme centered on it.
Saturdays and Sundays also tend to be more popular than weekdays. Try to have your wedding on a Wednesday and Thursday, if possible. You can then schedule a reception for Friday or allow guests to celebrate over the weekend.
Once you have a date scheduled, you should contact your wedding venue and book your reservation. You should also send out RSVPs and give your guests plenty of time to respond.
Prepare for the Climate
Las Vegas weather is usually dry, so you don't have to worry about rainstorms. However, average temperatures in the summer can exceed 100 degrees.
If you're worried about the temperatures, you should try to schedule your wedding for another season. You should also consider afternoon or evening weddings, as they will be cooler than morning events.
However, you can still have your wedding outside. You should buy plenty of water for your guests and give them fans. Feel free to order custom fans and allow your guests to take them home as party favors.
You should have a backup plan in case it begins to rain. You can move to a chapel or meeting room indoors, or you can go underneath a structure like a gazebo. Talk to your wedding director so you can move quickly.
Select a Theme
One of the perks of Las Vegas weddings is themes. You can choose whatever theme for a wedding you want, even at an outdoor venue.
You can select a traditional or religious ceremony. If you prefer more informal, you can have an Elvis wedding. An Elvis impersonator will conduct the ceremony, and you can hear them perform classic rock songs. You can also have a Johnny Cash wedding.
If you're already married, you can schedule a vow renewal. The renewal can be the same ceremony as your wedding, or you can make some modifications. You and your spouse can give speeches to each other affirming your marriage and talking about what your love means to you.
Many venues offer wedding packages that let you buy several services at once. Packages can include a photographer, florist, and musician as well as the venue itself. Try to buy a package with the theme you want.
Get the Paperwork in Order
Whatever wedding you pick, you need to get a marriage license for your union to be formal. You can start the paperwork by applying online and giving your full legal information.
After you apply online, you and your partner must visit the Clark County Marriage License Bureau. Both of you must go in person, but you can go the day or morning before your wedding. There is no waiting period, though lines at the Bureau can be long and you must pay a $102 fee.
You must have a government-issued photo ID with you. You can use a passport, driver's license, or military identification card. Non-American citizens can get married in Las Vegas as long as they have an ID from their home government.
You will need a witness to verify your marriage and sign your wedding certificate. If you're in a hurry, your venue can provide a witness for you.
Find Your Perfect Outdoor Wedding in Las Vegas
An outdoor wedding in Las Vegas can be magical. The key is to find the right venue. A garden gazebo protects you from the elements and looks stunning.
Consider scheduling your event for a weekday during the fall or spring. Look at your different options for themes, including unconventional choices like Elvis weddings.
Make sure to plan in advance. You need to book your venue and prepare papers, as well as order services like wedding photography.
But know that you're not alone. The Little Church of the West is open to all weddings. Contact us today.